Rainbow Carrots Recipe
---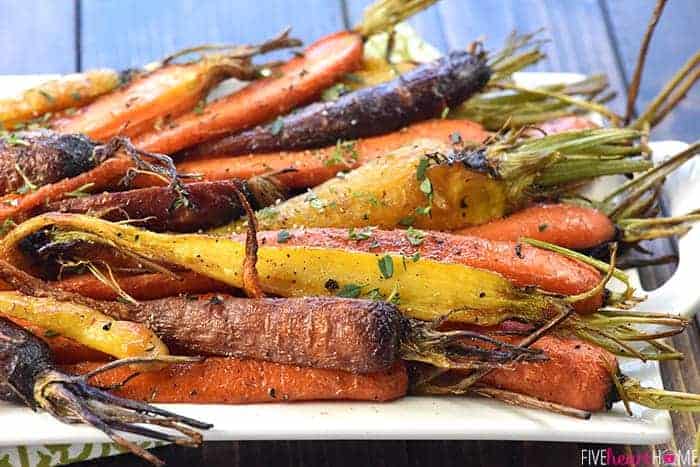 Ingredients
2 pounds rainbow carrots with tops
2 tablespoons extra-virgin olive oil
3/4 teaspoon garlic salt (or regular sea salt)
Freshly ground black pepper
Fresh thyme sprigs, DIVIDED
Instructions:
Position rack in center of oven and preheat to 425°F.
Scrub carrots and trim tops to 1 inch. If some carrots are thicker, cut them into halves or fourths (lengthwise) so that all carrots/carrot pieces are approximately the same diameter.
Toss carrots with extra-virgin olive oil so that they're evenly coated (shake in a gallon-sized plastic baggie, stir together in a big bowl, or toss together on sheet pan). Spread into a single layer on a large, rimmed sheet pan. Evenly sprinkle with garlic salt and pepper. Toss several sprigs of fresh thyme on top (retain a sprig or two of thyme for garnish).
Roast, stirring every 10 minutes, for 20 to 30 minutes total, or until the carrots are very tender and starting to caramelize around the edges. Remove the cooked thyme stems (it's okay if the leaves fall off and remain with the carrots). Adjust the seasonings with additional and/or pepper, if necessary.
Transfer the carrots to a serving platter, sprinkle with additional chopped fresh thyme leaves (from the reserved sprigs), and serve immediately.
Notes: This recipe may be made with rainbow carrots, regular orange carrots, or baby carrots. You may peel them if you wish. Just be sure that whatever carrots you use have approximately the same diameter, cutting them when necessary. Cooking time may vary based on the size of your carrots, so cook until tender regardless of how long it takes.
Recipe and words from: https://www.fivehearthome.com/roasted-rainbow-carrots-with-thyme-spring-easter-side-dish-recipe/